AAMS News and Views: The News and Views of l'Association des Acadiens-Métis Souriquois (AAMS)
On the News and Views page, the members of the Association des Acadiens-Métis Souriquois of Nova Scotia share how they live their unique Métis heritage -- and live up to the organizational philosophy of the AAMS. We, as AAMS members, take pride in showcasing our traditions at events in the community and welcome the opportunity to share with our members and friends all that we have been up to in the past year -- and our plans for future activities.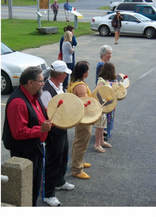 Read about our doings as a Métis community and find a home for your heart and your heritage here -- with the AAMS! Click the following links to view:​​​
2017
Announcing the 10TH ANNIVERSARY celebration of the Association des Acadian-Métis Souriquois (AAMS) Sept 15th & 16th, 2017 -- September 1, 2017
News and Reflections: Surge in demand for Metis genealogies, Aboriginal identity cards, since Supreme Court ruling irritates some, is a victory for others -- August 31, 2017
News and Reflections: "Nations at War" series examines 800 years of war in the Americas; features Cornwallis, Mi'kmaq, Acadian, British, and New England perspectives -- August 29, 2017
2016
​2015
2014​20132012​2011
"Coureur de Bois" Selected as AAMS Theme Song -- January 2011: AAMS has chosen as a theme song "Coureur de Bois" by Philip and Wendell d'Eon. Click here to enjoy the words of this beautiful and meaningful song. Enjoy "Coureur de Bois" on You Tube!
2010
Association des Acadiens-Métis Souriquois (AAMS) Newsletter -- February 2010: We are pleased to present the first issue of a regular newsletter for AAMS members and their families, which we hope to publish at least twice a year. Future issues will include articles on a variety of topics such as benefits of AAMS membership, Acadien-Métis-Mi'kmaq history and culture, upcoming events, and most importantly the recognition of Métis Rights.
2009
Association des Acadiens-Métis Souriquois (AAMS) Newsletter -- Spring 2009: The main focus of this first Newsletter is to provide the membership with a brief history of the "Association des Acadiens-Métis Souriquois (AAMS)" from its inception to the present. In 2007, the "Congress of Aboriginal Peoples (CAP)" in Ottawa was involved in a "Powley Implementation Project" that investigated the possibility that Acadian communities could qualify.
Letter from a Trapper ...by Paul Tufts, President, AAMS, Genealogy Committee. Dear Friends, I am the oldest in a family of 15 children, and the only one who became a trapper-hunter-fisherman. Although my father had some influence on me as a hunter, my attraction to trapping came at an early age via a Métis trapper who lived in my community. He had no children, but wished to pursue the traditions of his father -- traditions that required a son in the bow of his canoe while trapping....click here to read the rest of Paul's story....
From the AAMS Mailbox: "The Métis -- Who Are We?" ...by Archie Martin. Let's start with the terms that were applied to mixed blood peoples. They were: Métis, Halfbreed, Halfcaste, Native, Mixed Blood, Voyageur...click here to read the rest of this article...
---