Native American - French European Intermarriage in Acadia Explained at Acadians in Maryland
Sign Dedication
Acadians in Maryland not only hid the Grand Pre parish registers, they also concealed their Native American bloodlines! People of Native American and European ancestry were equally subject to deportation in 1755. This uniquely North American heritage and culture was proudly represented by Marie Rundquist, (wearing the
Association des Acadiens-Métis Souriquois (AAMS)
Acadiens-Métis
sash) who explained Native American - French European intermarriage at the dedication of the "Acadians in Maryland" sign on the July 28th, in the town of Princess Anne, on Maryland's Eastern Shore.
​Dedicated July 28th, 2013, the "Acadians in Maryland" historic marker, installed and maintained by the State of Maryland, connects the dots for those whose Acadian ancestors lived in Maryland prior to their arrival in Louisiana. This sign is the first in the State of Maryland to recognize the little-known history of the Acadians who were sent to Maryland following their forced expulsion from Nova Scotia in 1755. All descendants' heritage journeys must now include a stop in Princess Anne, Maryland, where the sign is prominently displayed in the heart of the Princess Anne historic district. The dedication, which occurred on the Acadian Day of Remembrance, was a wonderful event, and attendance was excellent.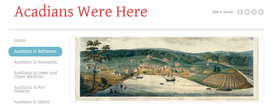 Acadians Were Here Maryland Historical Trust 2018 Excellence in Media and Publications Acceptance Speech delivered by Marie Rundquist
mrundqui@shentel.net
February 1, 2018 at the Maryland Senate Office Building in Annapolis, Maryland. Reference: https://acadianswerehere.org
for Dr. R. Martin Guidry, Contributor and Historian, Greg Wood, Author, Contributor and Historian, Marie Rundquist, Author, Contributor and Website Developer
"The website,
Acadians Were Here
, which receives today the MHT award for Excellence in Media and Publications, delivers the lesser-known history of Acadians in Maryland to new audiences: tourists and tour guides, researchers, historical societies and organizations, journalists, documentary producers, family genealogists, and regular people interested in traveling to the places where over 900 Acadians were exiled after being forcibly removed from their lands in Nova Scotia in November of 1755. They travel by bus, by car, by bicycle and on foot to visit the areas around the Chesapeake Bay where Acadian families lived – and they connect to the Acadians Were Here website from the US and Canada to plan their trips.
Thank you, Maryland Historical Trust for this excellent recognition of the Acadians Were Here organization and thanks to all whose support and endorsement we are so grateful to have received, and thanks to our guests today, Lynn Wood, Sean Carney, and my husband Edward Nowicki for their support. We honor Nell Ziehl and the Maryland Historical Trust Program staff for elevating the vital role of Acadians In Maryland's history to the mainstream, and through this MHT award, recognizing our project, and that Acadians Were Here."
​
About the Maryland Historical Trust 2018 Awards:
https://mht.maryland.gov/awards_2018.shtml
Press Release: ​
2018-0201-press-release-2018-md-preservation-awards.pdf
Slideshow:
mht.maryland.gov/awardsphotos2018.shtml
---