​​Logo of Association des Acadiens-Métis Souriquois
(AAMS)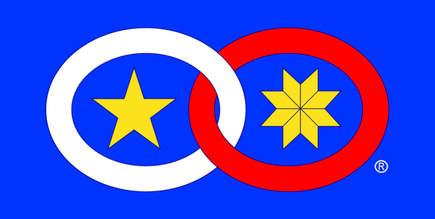 Correct Position:
While facing this AAMS logo, the design should be positioned with the white circular link on the left, and with the red one on the right.
​
Colours:
The red, white, blue and yellow colours of the AAMS logo are those of the Acadien Flag. The blue background also represents the "Sea."
Circular Links:
The white link circles the Acadien Star to symbolize the white race (the Acadiens) and the red link circles the Mi'kmaw Star to represent the red race (the Mi'kmaq, formerly called the Souriquois). The linkage of these two circular links symbolizes the strong union between the first French-Colonists and the Souriquois (Mi'kmaq) to procreate the distinct Acadien-Métis Souriquois people.

​
Yellow Acadien Star:
This star represents Mary, Star of the Sea (Stella Maris), as a sign of hope and as a guiding star and protector of those who travel or seek their livelihood on the sea.
Yellow Mi'kmaw Star:
This eight pointed star symbolizes the "Sun" with the "Creator" in the centre. The Mi'kmaq (Souriquois) identify themselves as "People of the Dawn" since the rising sun first appears and shines on their homeland in the East. As an expression of their spiritual connection to everything that provides life in the environment, they refer to "Father Sun" who shines on "Mother Earth" to create all forms of life. This star is double pointed in four directions to also represent complexity, the four Races of Man, and the four Sacred Directions of the East, South, West and North towards which the Mi'kmaq seek Spirit Helpers as an expression of their spiritual relationship with their surroundings.
The eight pointed star
also symbolizes the "Seven Mi'kmaw Districts" and the "Unity" among these districts.
Blue Background: The blue background of the AAMS logo represents to "Sea". The first French explorers referred to the Mi'kmaq as "Souriquois", with the meaning of "Salt Water Men", who lived along the seacoast of Acadia. This "Salt Water Men" description also applies to many Acadien-Métis people, who live by the sea, who have some Mi'kmaw (Souriquois) ancestry, and who self-identify as "Acadiens-Métis Souriquois".
---